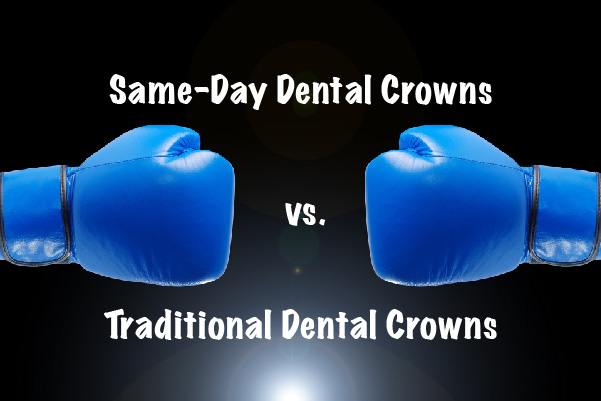 Crowns are porcelain restorations for chipped, cracked, or weakened teeth. You may be familiar with traditional crowns. At Rock Ridge Family Dentistry, we also offer same-day dental crowns thanks to the revolutionary CEREC® technology. Learn more about the benefits of each treatment method below!
Traditional Crowns
Traditional porcelain crowns typically require two appointments. During the first appointment, we'll examine your teeth and take impressions to ensure the crown fits perfectly among your other teeth. To make sure your crown looks natural, we'll choose a color of porcelain to match your surrounding teeth when we take an impression of your tooth. We then send the impression to an offsite lab to create the crown. The dental lab works to create a restoration that is the perfect shape, size, and color for your smile.
While you are waiting for your restoration to come back, we'll place a temporary cover on your tooth. In about two to three weeks, your porcelain crown will arrive, and we'll call you in for a second appointment to have the permanent crown placed.
Same-Day Dental Crowns
At Rock Ridge Family Dentistry, we're excited to offer same day dental crowns with the use of CEREC technology. CEREC stands for Chairside Economical Restoration of Esthetic Ceramics. It uses computer-aided design and manufacturing (CAD/CAM), such as CNC milling and 3D printing. This lets us construct, produce, and insert individual ceramic restorations in one appointment. We'll take a digital image to create a virtual design, which we send to an on-site milling unit that will manufacture a crown onsite. The process requires less time in the dental chair (no multiple appointments necessary), no impression trays, and no plastic temporaries. Once it is complete, we'll place and fit it right then. The entire process only takes a couple hours!
Not only is the process easier for you, but it also looks and feels much better. CEREC allows us to create ceramic material that matches the color of your teeth, feels like a natural tooth, and holds up over time.
At Rock Ridge Family Dentistry, we're always looking for ways to provide an even higher standard of dental care. We're excited to invest in the best available technologies and services. CEREC will make your dental visits easier and your crowns more comfortable.
If you think you may need a dental restoration, make an appointment with us today!