Modern And Innovative Dentistry For Everyone
Rock Ridge Family Dentistry
Jeremy T. Louk, DMD
Your Round Rock Dental Home Rock Ridge Family Dentistry
Jeremy T. Louk, DMD
Welcome To
Rock Ridge Family Dentistry
Dentistry In Round Rock, TX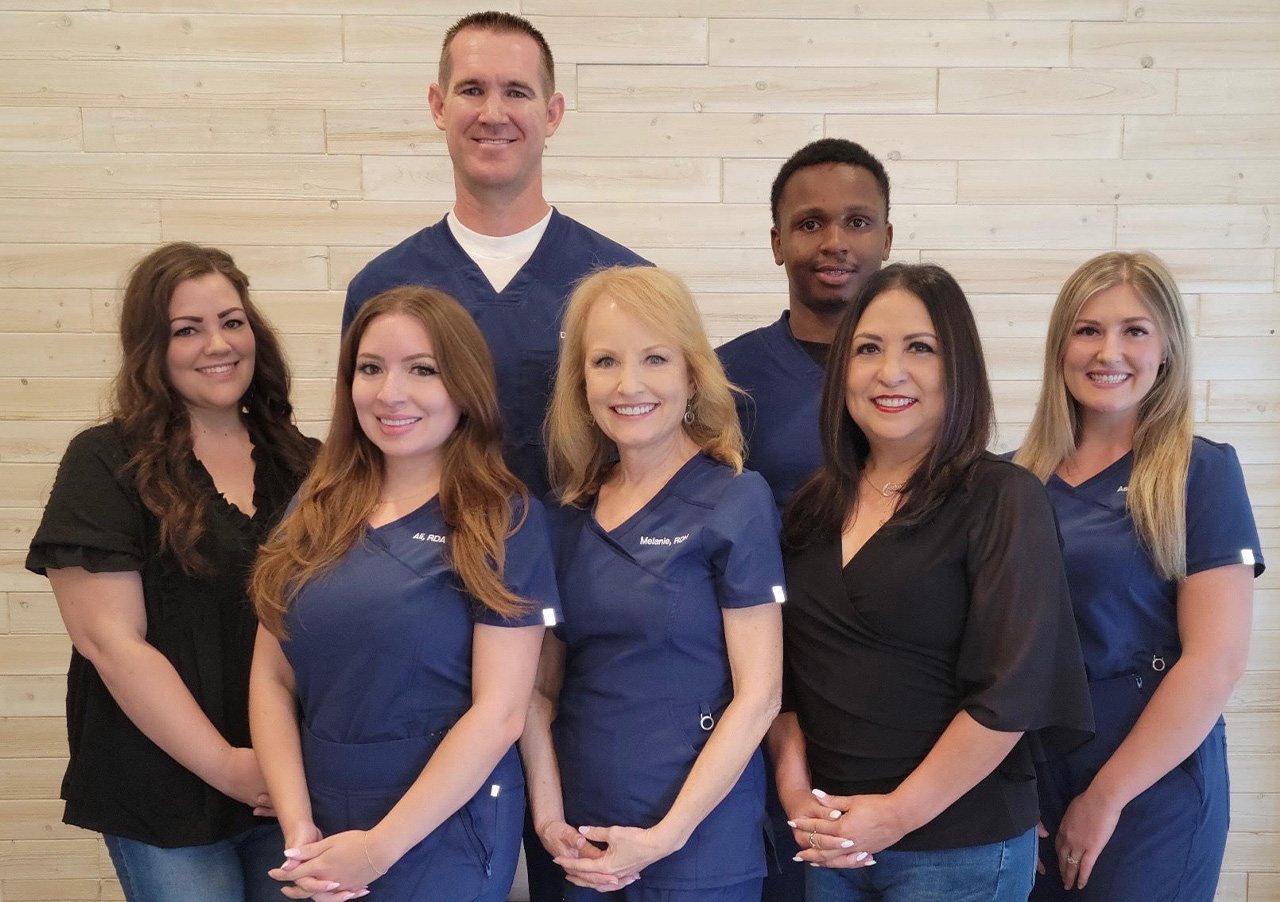 At Rock Ridge Family Dentistry in Round Rock, we love our community, and our goal is to provide Round Rock families with the highest quality dental care around. Dr. Jeremy Louk is a dentist in Round Rock that is passionate about giving you the smile you want and deserve through comprehensive preventive, restorative, and cosmetic dental care.
The friendly team at Rock Ridge takes the time to get to know you on a personal level to ensure that your needs are being met every step of the way. We'll work with you to create custom treatment plans so all your smile goals can be met in one office with one doctor. For advanced family dental care that you can count on for years to come, call us today! Rock Ridge Family Dentistry is your top choice for Dentistry in Round Rock, TX.
OUR SERVICES
Comprehensive Dentistry in Round Rock
We offer a variety of comprehensive dental services at Rock Ridge. We work to make sure you have as many options possible for dental treatment at one location.

GENERAL DENTISTRY
As your dentist in Round Rock, TX, Dr. Louk wants to keep your teeth healthy and your smile happy and beautiful. We offer comprehensive dental services, including preventive, restorative, and cosmetic treatments to keep your oral health in top shape.

PREVENTIVE CARE
Two dental appointments a year is a small price to pay for a lifetime of quality dental health! Dr. Louk and his team provide quality preventative dental care for patients both young and old, so we hope to see you soon!

Our office is equipped with a CEREC® machine, which allows us to provide same-day dental restorations. This machine is truly changing the way we practice dentistry, and it also has a number of great benefits for patients.

The Chao Pinhole® Surgical Technique is a minimally invasive option for treating gum recession. Unlike traditional grafting techniques, PST is incision and suture free. Chao Pinhole® Surgical Technique were created by Dr. John Chao, and who trained Dr. Louk.

RESTORATIVE TREATMENTS
If you are suffering from a toothache, have a chipped tooth, interested in dentures or dental implants, Dr. Louk is the Round Rock dentist you've been looking for!

COSMETIC SERVICES
Your smile is one of the first things that people notice about you. Rock Ridge Family Dentistry can help you leave a good first impression with cosmetic dental care that will make your smile as beautiful as you deserve.

CONVENIENT SCHEDULING
We understand that it's easy for busy families to let dental care fall to the wayside when schedules get busy and money gets tight. We offer early morning treatment times and family-block appointments to give you convenient scheduling around work, school, and everyday life. This means you can bring the whole family it together and we'll see you at the same time or back to back. Just a single trip for the entire family.

FLEXIBLE PAYMENT OPTIONS
We're also insurance friendly and offer flexible payment options, so your family can get the care they need when they need it, not just when you can afford it. We also offer a 10% cash discount when paying up front in full and a 10% senior discount for patients that qualify. If you are without insurance and have a tight budget, you can finance the cost of your treatment through CareCredit. CareCredit lets you pay the cost of your dental care in low monthly and affordable payments.
Don't Take Our Word For It!
Check Out What Our Patients Are Saying
The people have been very helpful. When they finish I will add more. Thank you
I have been going to Rock Ridge Family Dentistry for many years and I have never had a bad experience. The staff is very professional and knowledgeable and they took extra care to make sure I was comfortable during my visit. They stay on top of technological improvements in the dentistry field and use these new technologies to improve the patient's experience.
Best dental care in our area. Dr Louk is excellent and his staff is so helpful! Every aspect of their care is 5 star. Thank you!
Excellent experience. I'm definitely returning!
This is the one! You dont need to keep looking. Btw, stay away from modern dentistry or castle dental!
I love Dr. Louk's office and his staff. Everyone is so helpful and kind and they know their jobs and positions very well. Ashley, my dental hygienist, never once made me feel bad for not flossing enough. She knows I'm an adult and says the kind of things to me every time I come in. I know the other hygienist is the exact same way. I had to get an implant, and I was very nervous about it because I had an implant a few years ago and my bone rejected it. Dr Louk assured me he uses a new technique and it should hold. The whole thing was a very stress-free experience and my implant is holding very well.
Dr. Louk and his staff are incredible! I couldn't have asked for a better dental experience, Dr. Louk was very professional and friendly. I'm very pleased with the work that he did I would highly recommend!
The staff is very nice. I always have a great experience. I'm very happy with all the work that has been done to my teeth over the years. I appreciate the care and attention given from everyone at this office.
Dr Louk is Excellent and his entire staff is very good and they actually care about you. I promise you will be happy with their dental services. He is very good at communicating what problems you have and how he is going to fix you up. Dr Louk is kind and light-hearted.
Love Dr Louk and his staff. I flew all the way to Texas from Mississippi just to see them. Thank you.
They are so proffesional and kind
Dr. Louk and his team always take care of me! Everyone is so welcoming. I actually look forward to going to the dentist!
Great service. My dental hygienist was amazing and was very thorough with my exam. She took the time to explain everything so I knew what needed to be addressed. She could sense that I had some dentist anxiety so she was extra careful.
My review goes back many years with this dental practice since the early 90's. We have been taken very good care of since then. I have moved out of town for the last 18 years, and have tried several dental offices closer to me, but I can't find the quality and care that I get here. Also, I have had the same dental hygienist, Melanie, for all the years. I think that says a lot about the business and the dentist. I love them!
Always an amazing experience with Dr. Louk and his team! Everyone is very nice & even the unpleasant stuff isn't that bad due to the amazing staff & of course Dr. Louk himself. Love this office & have no reason to ever go elsewhere.Just adding to this after today's visit - always an amazing experience!
i've been coming here for about a year now, they have a great staff- the receptionists keep me posted with a text alert system which sends reminders, but not too frequently, and they respond to them if need be, which is great- the hygienists i've dealt with for my cleanings and prep are extremely knowledgeable and thorough, i trust their knowledge and skill as they use a variety of advanced equipment and tools for digital mapping and the like, though not over the top, it seems they've chosen the most appropriate technologies for the betterment of the practice- and doctor louk is great, he's very approachable and laid back, yet very skilled and quick- i had two, albeit light, cosmetic, fillings done with precision as well as a 3d digital mapping done for a future implant (36 year old baby tooth coming out soon) and i was out the door in 35 minutes! he's also not pushy about procedures, but can lay the ground work in a very well planned way- it's a great practice!
My teeth are sparkly such a great feeling!
I always like everyone in this office. I mean, I'm not gonna lie and say i like to go to the dentist...but if I have to, at least they all make it bearable!
I love Rock Ridge Dental! Always very quick and kind and in a convenient area!
Dr. Louk and his staff was very professional and kind. If you have dental needs I suggest you visit them, Rockridge family dentistry they are awesome. I have been seeing him for a while and I feel like family 🥰
Absolutely LOVE THEM! Every time I walk out of that office my smile looks better and better.
Always a pleasant experience. Caring staff and a great dentist.
This whole office is dedicated to professional customer care.
the folks at Rock Ridge are always first rate.
Very good experience always is
They fit me in on short notice. The Dr explained everything to me and took allot of time with me. Made me feel important. Also Worked me into the Endodontist last minute due to having pain. Thank you.
Today's experience was great as always. Dr. Louk may be the most skillful medical technician I've ever been to. His staff and assistants are a delight as well. Can't recommend him highly enough.
I have always had a great experience. Excellent staff!
Rock Ridge Family Dentistry is amazing! Both my husband and I love them! My family has been going here for all our dental needs for over 20 years. Cari is the best! From the moment you hear her happy voice on the phone it makes you feel at peace. She always does whatever she can to get you on the schedule and take care of you. All the hygienists are so sweet and make a point to remember details about you and your life and whatever was going on the last time you were in for a cleaning. I literally can't say enough good things about them. Dr. Louk is super funny and is very caring. He has a huge heart for his patients. I recommend anyone I know to them. 10/10 would recommend Rock Ridge Family Dentistry.
The staff is Amazing. DDS. Louk is great! He always makes sure your comfortable no matter what the procedure he's doing. The dental hygienists are all very sweet.
Dr. Look and his team are experts. A very comfortable office environment and I'm healthier than ever !
Dr. Louk has been my dentist about 14 years. He and his staff provide excellent, state-of-the-art dental services in a cleanly and friendly environment.
If you are looking for a great Dentist AND a great office staff this is the place. I frequently find one and not the other but this team is unbeatable! The office is clean, parking is easy, they have upgraded equipment AND they know what they are doing. Seriously not enough great things to say about them.
Outstanding hygiene service from Melanie my hygienist. She is so knowledgeable, kind, and gentle when cleaning and checking my teeth. My dentist, Dr. Louk is an excellent dentist with state of the arc techniques backed by his knowledge and skills. All the administration staff is consistently kind, courteous, professional and knowledgeable and has total ability to determine exactly what you owe and how to bill the insurance.I have been a patient here over 25 years and intends to stay. Keep up the good work.M. Erickson
Dr Louk and his team are so kind and professional. I really appreciate the care and patience they gave me during my last visit.
I refer people to Dr Louk all the time! I love this office! Really loved my latest hygienist, Ashley Barlow - she was so knowledgeable on things I've never been told before about my mouth! I can tell she really paid attention in school. I always enjoy seeing Dr Louk and the receptionist! 🙂 He's the best dentist I've ever been to and being able to truly trust him is really important to me. I have seen a couple of dishonest dentists and one ruined my teeth which Dr Louk fixed for me (failed fillings on two and a failed root canal/crown). I'm so glad I found somewhere that's always honest and caring. Thanks so much for all you've done for me! 🖤
Dr. Jeremy Louk, Ashley Barlow - Hygienist and reception staff was very friendly. Understanding of all the Procedures was very well explained to me. Dr. Louk and hygienist Ashley I highly recommend.
My 8-yr-old needed a baby tooth removed to aid her orthodontic progress and she was very nervous and scared. We went in and Dr. Louk immediately addressed her fear in a way that made her smile, then proceeded to numb her and pull her tooth with all smiles, giggles, and jokes! This same kid left the dentist's office saying she had FUN!! I wouldn't believe it was possible if I hadn't seen it myself! Thank you so much to all of the friendly staff and Dr. Louk at Rock Ridge Dental! You guys are amazing!!
Wonderful staff! They were very good at telling me what was happening. Very reassuring.
Highly professional and friendly. I have had extensive dental work done here and I am very pleased.
Great care, very nice and modern facility and equipment.
Dr. Louk is a very professional and skIlled dentist. I have been his patient for 5 years or more and he has provided a filling, bite guard and crowns. He uses the latest imaging equipment and techniques and I never feel pain or get apprehensive about an appointment. He is honest and does not try and sell you on procedures. He is very practical in his approach to dental care. I highly recommend him and his team of hygenists and staff.
Emily is a great hygienist. She was very professional, knowledgeable and let me know what I needed to improve on. I look forward to future teeth cleanings! Staff made me feel welcome and were very COVID safe.
Great! Great! Great! Is all I can say about Rock Ridge Dental! Will refer everyone I know!
Awesome private dentist. The staff is amazing, dentist is awesome, and each and every person in the office treats their customer's with respect! Not a money hungry office trying to squeeze you for every penney like my last dentist!
Great dental service, professional, friendly, and highly recommend Rock Ridge Dental!!! Great
Established as new patient. Very impressed with overall feeling. Compassionate and friendly. Highly recommended.
I'm thankful for the level of care that I received yesterday. From the time I arrived until the time I left I felt extremely comfortable with the service that I received. Thank you for your professionalism and ability to show that you all care. Rock Ridge Family Dentistry ROCKS!!!!
Great staff, incredibly attentive to comfort level of patients and recommending solutions.
I was so pleased with my experience with Dr. Louk and team. This was my first time there. The office felt immaculately clean. The staff were all so friendly. And they made me feel so comfortable. Would definitely refer any of my friends there.
The Rock Ridge team is great and Dr. LOUK does a fantastic job making a nervous patient feel comfortable and relaxed. I recently had a cracked tooth that required a root canal and a crown. While I suffer from a VERY high level of anxiety at the mere mention of any sort of dental visit, Dr. Louk and his team did a fantastic job of putting me at ease and assuring me that all would go well. They even over communicated my fear to the endodontist (Dr. Simon) who performed the root canal. Truth be told, I even fell asleep during the procedures! I could not recommend the team at Rock Ridge Family Dentistry, and also ATX Orthodontics, highly enough.And a special thanks to Ms. Ali Calkins, RDA for calming presence. 🙂
They are professional, patient, and people centered. They consider long-term health and needs and value each patient.
The Best Dentist I have ever been too! Truly Amazing. Best Customer Service and best bedside manner!!!!!
Excellent Dentist office! Staff is professional and personal and Dr. Louk is so nice and keeps your best interest at heart. Great at educating you and giving you options. Stress free, clean and lovely office
Service is excellent. Entire staff is very friendly with tons of experience. Love the modern tools and techniques. Appreciate the attention to detail that Melanie provides. Thanks for helping me keep my teeth and gums healthy.
I love Rock Ridge family dentistry. The office staff is amazingly courteous and accommodating. Melanie is an amazing hygienist. She explains everything to you, is fast thorough and just the kindest person. Dr Louk always takes the time to explain things and offer options. Some people don't look forward to seeing their dentist but I always look forward to seeing all their staff!
Dr Louk & Team have been my dentist for five years, they are outstanding!
I've been going to Rock Ridge Family Dentistry for most of my life, literally since I first came to Texas as a kid back in the late 90s. The quality of care has always been excellent, and after Dr. Louk took over the practice in the last several years I daresay it's become even better with increasingly more modern technology and practices. The staff are friendly and I'm always made to feel comfortable during my visits. I would definitely recommend Rock Ridge to anyone looking for a good Dentist in the Austin area.
Best dentist experience I've ever had. As long as I live in the Austin area this is where I will go.
I was just fitted with a new front crown. As they have in every visit since I was referred here several years ago, Dr. Louk and his staff provided meticulous care and a friendly atmosphere. I give them my highest recommendation.
***update from 1/24***I returned for my dental care and the staff was awesome. They were very thorough and took pictures photos of my teeth (not just xrays). I was extremely impressed with my visit and will be returning for dental care.***update***The staff came and found the error. I will be going back to have them provide me with service and will provide another update. The staff was very transparent about the mishap.************1/17Wish I could provide a better review. My appointment was at 1:30 PM today and to my surprise after waiting almost 30 minutes, no one has arrive to building. I heard they were good but I guess I'll never know. I took off work to be here. Hopefully if anyone shows, they will provide excellent and untrusted services.
My friend referred me to Rock Ridge Family Dentistry after I refused to go back to the dentist after a horrible experience. She actually called and spoke to Dr. Beck and told him about my experience and he actually called me at home to calm my fears and encourage me to make an appointment. I made the appointment and I am so happy I did. I have been a customer since then.Although Dr. Beck has retired. Dr. Jeremy Louk took over the practice and thankfully he is just as great as Dr. Beck. If you need a great dentist Dr. Jeremy Louk is your guy. Not only is he great but all of the staff is friendly, knowledgeable and professional.
I went in to Rock Ridge dental on 19 Nov. 2018 with the expectation that the build up and crown for my #31 tooth (rear molar) would result in several visits and a less than desirable experience. On the contrary, my experience was fantastic as I quickly learned that the process would be fulfilled within several hours - start to finish. They respected my time and took care of my issue promptly and professionally. What a positive customer experience. I would strongly encourage others to engage in the Rock Ridge dental practice as they truly embrace a practice of exceeding the customer's expectations and ensuring a positive customer experience.
I've been a patient for about 5 years. Everyone at the office is awesome. The appointments run in a timely manner.
Dr. Louk and his team are a patient centered group of people. Every time I come in for a visit I am greeted with smiles and an uplifting atmosphere. Everyone from the front desk, hygienist, and assistants really put forth the effort to give you the best experience. I always leave with a great experience and a pep in my step. You can tell they have a cohesive team and they work well together. "When you take care of your staff, they will take great care of your patients." 🙂
These guys are great. Always friendly and courteous. I have always had a very positive experience here and I have been visiting this dental office for more than 15 years.
CONTACT US
Request An Appointment
We Are In Network Providers For The Following Insurances